Archive for the 'New Jersey' tag
Source: Asbury Park Press
Story title: CBA falls to Gloucester Catholic in Non-Pubic ice hockey semifinal
Link: http://www.app.com/article/20100309/SPORTS0123/3090368/CBA-falls-to-Gloucester-Catholic-in-Non-Pubic-ice-hockey-semifinal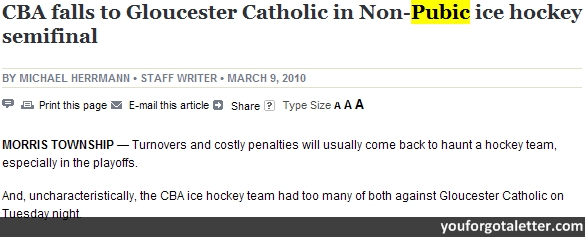 Seriously, what the heck is the deal with New Jersey sports? First it was non-pubic track and field, and now it's non-pubic ice hockey. I shudder to think what the pubic versions of those sports look like.
Source: NJ.com
Story title: Notre Dame boys place 2nd, girls come 9th at Non-Pubic A championship
Link: http://highschoolsports.nj.com/news/article/-910962931011619989/notre-dame-boys-place-2nd-girls-come-9th-at-non-pubic-a-championship-high-school-boys-indoor-track-news/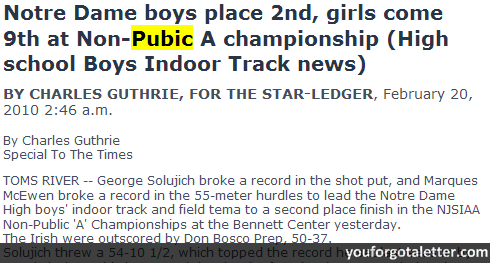 Seems strange that they feel the need to clarify that.