Archive for the 'Florida' tag
Source: Trulia Blogs
Story title: IS THE U.S. GOVERNMENT KILLING OFF THE REAL ESTATE INDUSTRY
Link: http://www.trulia.com/blog/richard_michael_abraham/2010/03/is_the_u_s_government_intentionally_letting_the_real_estate_industry_die (cache)

I hate it when the centrally controlled Government forms secret disguised strategies and then hides them from the pubic.
Source: Newswire
Story title: Artist Elio Lopez Unveils Seventh Public Work to Inspire Diversity and Acceptance
Link: http://www.newswiretoday.com/news/64778/
I'm pretty sure most people are not going to be inspired to acceptance of exposing children to that particular kind of art. Pretty sure that's the kind of thing that gets you sent to prison.
Source: Associated Press
Story title: Shuttle aims for pre-dawn launch as clouds move in
Link: http://www.ajc.com/news/nation-world/shuttle-aims-for-pre-292902.html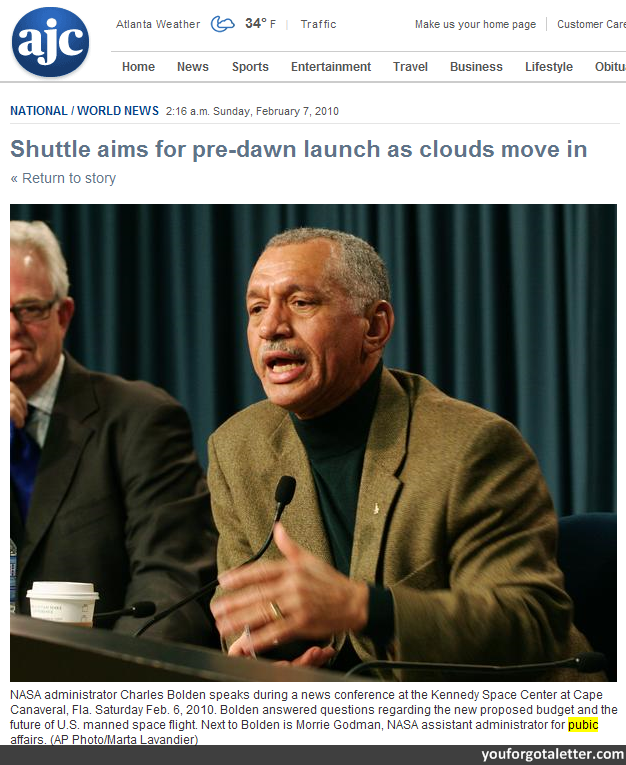 Seems a little redundant, since most every affair tends to be focused on the pubic region.