Archive for the 'DC' tag
Source: Politics Daily
Story title: Obama-Netanyahu Meeting: No Comment, No Photos, No News
Link: http://www.politicsdaily.com/2010/03/24/obama-netanyahu-meeting-no-comment-no-photos-no-news/

Given the choice, I would personally prefer that they not release any photos or comments about such intimate moments between world leaders. Ick.
Source: Times Online (UK)
Story title: Joe Biden: 'it's easy being Vice President, you don't have to do anything'
Link: http://www.timesonline.co.uk/tol/news/world/us_and_americas/article7043105.ece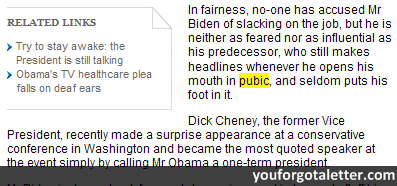 I think that the British may be confusing our presidents and vice presidents. We had one a couple decades ago that got into some trouble for opening his mouth in pubic, but I don't think anyone wants to imagine Biden in a similar circumstance. Ew.