Archive for the 'Canada' tag
Source: Inside Toronto
Story title: Willamson Road Junior Pubic School hosts 100th anniversary open house
Link: http://www.insidetoronto.com/news-story/4925043-willamson-road-junior-pubic-school-hosts-100th-anniversary-open-house/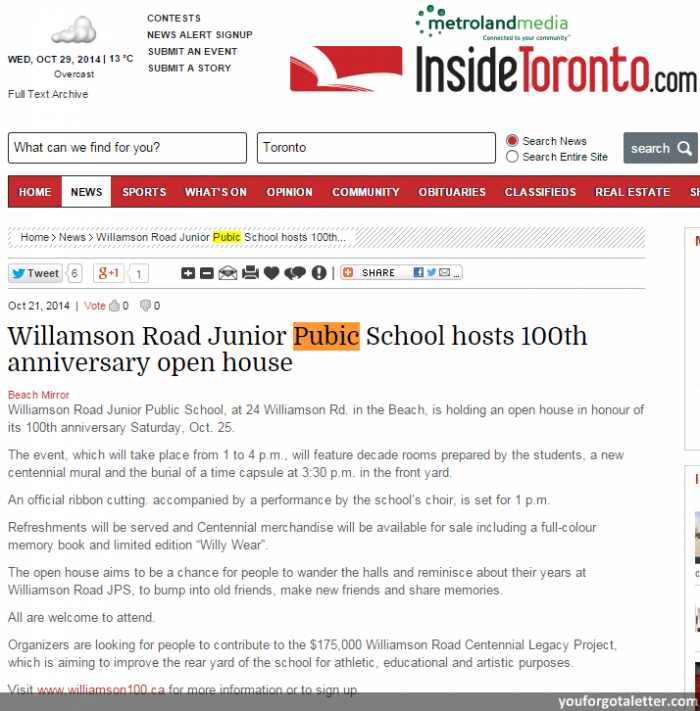 I wonder what kind of courses they offer at a pubic school.
Source: SeattlePI.com
Story title: Montana-B.C. agree: No ripping up the flathead
Link: http://blog.seattlepi.com/seattlepolitics/archives/195016.asp

A hearty congratulations goes out to our very first repeat winner: Joel Connelly of the SeattlePI.com! Joel's first appearance on You Forgot a Letter was a mere one week ago: Seattle's Joel Connelly Not Fond of Mayor's Prying Ways.
Keep that subconscious in the gutter, Joel!
Source: Orillia Packet & Times
Story title: Pubic confusion reined during flu pandemic
Link: http://www.orilliapacket.com/ArticleDisplay.aspx?e=2446894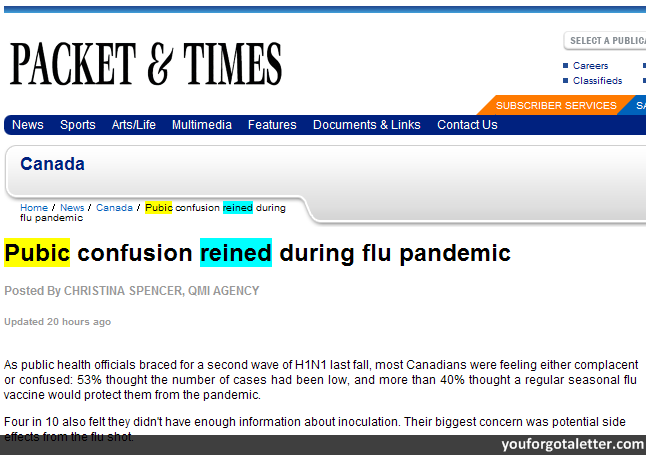 Pubic reins? Those kinky Canadians.
rein: v. to control or direct with or as if with reins
reign: v. to be predominant or prevalent